Official!

This article is official! This means that it is a part of the published Rainbow Magic series.
After School Sports Fairies

Series
32nd
Number
188-191*
Logo
None
Location
Tippington Town
Special Thanks
TBA
Publish date
3 October 2019 (Teri, Bonnie)
5 March 2020 (Rita, Callie)
Series order
Preceding

Succeeding


TBA

Rainbow Magic order
Preceding

Succeeding


The After School Sports Fairies are the 32nd series and represents the activities people can do after school. Without the fairies' magic, they won't be fun at all.
There are four After School Sports fairies and they are: Teri the Trampolining Fairy, Bonnie the Bike-Riding Fairy, Rita the Rollerskating Fairy, and Callie the Climbing Fairy.
Problem
At the opening of Tippington Leisure Centre, the girls are excited to get going, but Jack Frost steals the fairies' magic items.
Jack Frost's Poem
Coming soon
The Fairies
Teri has a black bun and wears a pink two-piece leotard. Without her magic, trampolining will not be safe or fun.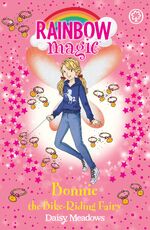 Bonnie has blonde hair in pigtails and wears a unicorn hoodie with jeans and trainers. Without her magic, bike riding will be unsafe.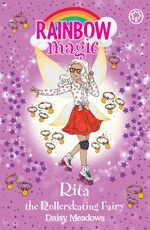 Rita has light blonde hair with glasses. She wears a shirt, skirt and a pair of rollerskates. Without her magic, things associated with rollerskating will go wrong.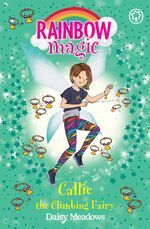 Callie has brown hair. She wears a two-toned grey shirt and colourful leggings with matching trainers. Without her magic, climbing will become dangerous.
Trivia
Another date on Amazon says the release date is 5 March 2020, but this is very unusual as it would be the next slot for a series to be published according to the regular pattern of release dates.
They are one of the only groups whose fairies' names are all alliterations of their jobs, the others being the Fun Day Fairies and the Endangered Animals Fairies.
Who is your favourite After School Sports fairy?
Community content is available under
CC-BY-SA
unless otherwise noted.