Official!

This article is official! This means that it is a part of the published Rainbow Magic series.
Discovery Fairies

Series
31st
Number
184-187*
Logo
None
Location
TBA
Special Thanks
TBA
Publish date
21 March 2019
Series order
Preceding

Succeeding

Rainbow Magic order
Preceding

Succeeding


The Discovery Fairies are the 31st series and represents the exciting jobs of the world. Without the fairies' magic, the jobs will be dull and no one will have aspirations.
There are four Discovery fairies and they are: Aisha the Astronaut Fairy, Orla the Inventor Fairy, Annie the Detective Fairy, and Elsie the Engineer Fairy.
Problem
Coming soon
Jack Frost's Poem
Coming soon
The Fairies
Aisha wears a silver metallic dress over leggings and matching boots. Without her magic, astronauts will lose their charm.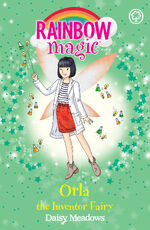 Orla has a black bob and wears a stripy shirt and a red skirt under a white lab coat. Without her magic, inventors will get in a muddle.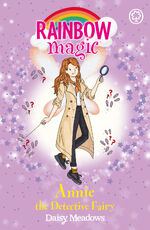 Annie has carrot coloured hair and wears a long beige coat over a top and black trousers. Without her magic, detectives will not know what to do.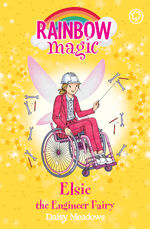 Elsie wears a white hard hat on top of her blonde hair, with a smart pink suit, and sitting in a pink wheelchair. Without her magic, engineers will lose their skills.
Trivia
The series' original publish date was 7 March 2019.
Who is your favourite Discovery fairy?
v - e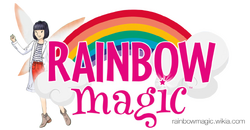 Locations
Human world: TBA