Festival Fairies

Series
33rd
Number
192-195*
Logo
None
Location
Wetherbury Village
Tippington Town
Special Thanks
Rachel Elliot
Publish date
6 August 2020 (Deena, Hana)
4 February 2021 (Elisha, Bea)
Series order
Preceding

Succeeding

Rainbow Magic order
Preceding

Succeeding


The Festival Fairies are the 33rd series and represent the religious festivals around the world. Without the fairies' magic, they will all go wrong.
There are four Festival fairies and they are: Deena the Diwali Fairy, Hana the Hanukkah Fairy, Elisha the Eid Fairy and Bea the Buddha Day Fairy.
Problem
Jack Frost is jealous of all the religious festivals in the world so he decides to steal the Festival Fairies' objects to create Frost Day.
Jack Frost's Poem
Ignore Eid and Buddha Day.
Make Diwali go away.
Scrap Hanukkah and make them see -
They should be celebrating me!
I'll steal ideas and spoil their fun.
My Frost Day plans have just begun.
Bring gifts and sweets to celebrate
The many reasons I'm so great!
The Fairies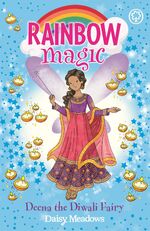 Deena has a brown plait and wears a pink and purple dress. Without her magic, diwali celebrations will be a mess.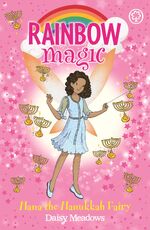 Hana was inside a dreidel that the girls were playing with. She has brown curly hair and wears a blue dress. Without her magic, hannukah celebrations will become a disaster.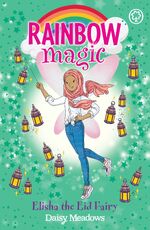 Elisha wears a pink hijab with a shirt, jeans and trainers. Without her magic, Eid celebrations will go wrong.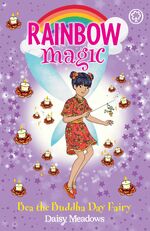 Bea has black hair and wears an orange dress with a gold sash. Without her magic, Buddha Day celebrations will go wrong.
Trivia
Similar to the After School Sports Fairies, they will be published in two halves.
They are one of the only groups whose fairies' names are all alliterations of their jobs, the others being the Fun Day Fairies, the Endangered Animals Fairies and the After School Sports Fairies.
They are not helpers of Daisy the Festival Fairy, who looks after music festivals.
Religions represented are Hinduism, Judaism, Islam and Buddhism.
All the fairies names end in "a".
In each 'Special Thanks' there is a dedication to someone who has helped with the research in the books.
This is the first time a series has taken place in more than one location and spread out over a time period of more than a week.
Who is your favourite Festival fairy?
Community content is available under
CC-BY-SA
unless otherwise noted.