Official!

This article is official! This means that it is a part of the published Rainbow Magic series.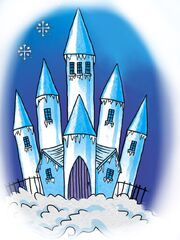 The
Ice Castle
is where
Jack Frost
and the
Goblins
live in Fairyland.
Features
Exterior
The Ice Castle is described as a cold and forbidding place. It is made entirely out of ice. The main entrance doors is made out of oak wood. The windows are barred and there is a hidden trapdoor. The battlements are where the goblins guard.
Interior
Inside the Ice Castle it is described as damp and dark. There are a lot of corridors leading to different rooms and the walls are lined with flaming torches. Spiral staircases go up through the towers towards the battlements and roof. Blue curtains line the windows and an ice chandelier hangs in the entrance hall.
Jack Frost's bedroom is quite big, with a tall mirror and a large king-sized bed. His duvet cover and curtains are matching, patterned with silver ice bolts. The kitchen is where the goblins prepare food, and it is full of shiny metal bowls, pots and pans. The throne room features Jack's huge ice throne, and it is the place where his big parties and events happen. The castle also has a crypt, the site of his coronation.
Goblin Grotto
A long road connects the Ice Castle to the goblins' place of residence, Goblin Grotto. It is a village on the foot of a snow covered hill, with cottages and wooden huts dotted here and there. At Christmastime in the centre of the village, the Christmas tree stands where the goblins can gather and sing carols. There are also food stalls, such as Goblin Grub. The Green Goblin Nursery is where young goblins can be looked after, supposedly while the goblins are serving Jack Frost.
Other features
In Becky's story, there was a large tent which Jack used for his friendship competition. He also attempted to be a vet by having his own surgery in a folly, shown in Heidi.