Welcome to the Rainbow Magic Wiki
Rainbow Magic Wiki is a wiki dedicated to the popular children's book series "Rainbow Magic". 
Written by an array of authors under the name "Daisy Meadows" and originally illustrated by Georgie Ripper, the books were created by Working Partners, owned by HIT Entertainment and are published by Orchard Books, a division of Hachette Children's Group. Over 200 books have been published in sets of seven or four, including several specials which are thicker and larger than the usual books. Also available are special books published by Scholastic for young readers with coloured pictures and easier, larger words.
Recent and upcoming releases
Upcoming One-Off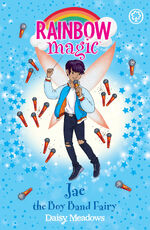 Jae the Boy Band Fairy
11 July
Jae the Boy Band Fairy is the 12th fairy in the One-Offs series.
Kirsty and Rachel are so excited to be going to see their favourite boy band in concert! But when Jack Frost steals Jae the Boy Band Fairy's magical microphone, everyone gets stage fright and forgets their moves. Can Kirsty, Rachel and Jae help the show go off without a hitch?
Recent blog posts
-An adult series where the girls, now adults, have to face realistic challenges in life.

-A life story featuring the fairies' life. It should be done once no more fairies are introduced.

-A fairy fusio…

Read more >

McDonalds Happy Readers campaign includes four Rainbow Magic books as a part of their program. Yes, it's a thing.

In case you haven't heard of McDonalds Happy Readers program, it's a campaign to let t…

Read more >

Hi everyone

I don't know if anyone actually reads my reviews but I find them fun to write so I did another one since it's been nearly a year since the last one.

Yesterday I bought Annie/Hazel/Dani the …

Read more >
Polls
Which 2019 book are you most interested in?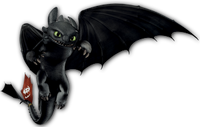 Children's Literature
Go to these sites for info or for help with your own wiki!
Alice's Adventures in Wonderland • Amulet • Anne of Green Gables • The Chronicles of Narnia • Dear America • Goosebumps • The Green Ember • Harry Potter • How to Train Your Dragon • Jumanji • Keeper of the Lost Cities • Little House on the Prairie • The Magic School Bus • Miss Peregrine's Home for Peculiar Children • Night Speakers • Oz • Peter Pan • The Polar Express • The Railway Series • Rainbow Magic • Tracy Beaker • The Unwanteds Series • Wings of Fire • Wonder
Want your community included? See how!