The Angels

Race
Human
Gender
♀ Female

The Angels are a girl group with three members: Emilia, Serena and Lexy. They appear in Destiny the Pop Star Fairy, the Pop Star Fairies and mentioned in Daisy the Festival Fairy.
Members
Emilia
Appearance: Emilia is tall and willowy. She has big green eyes and straight blonde hair with a side fringe.
Serena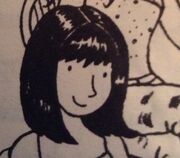 Appearance: Serena has brown eyes and a black medium-length bob with a fringe.
Lexy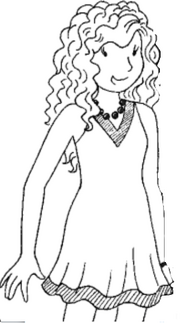 Appearance: Lexy has blue eyes. She has curly red-gold hair that flows down her back.
Singles
As far as we know, there is only one song the Angels have sang, called Key to My Heart. It was a charity single.
Lyrics: You're always there to hold my hand,
You stand by me you understand.
When I'm with you I feel so glad,
The truest friend I've ever had.
I know we two will never part,
And that's the real key to my heart!
Appearances
Rachel and Kirsty won a competition to meet The Angels. Throughout the story, the band showed them around the concert stadium, a dance routine to their new song and treated them to a makeover. They also invited them to the switching on of Main Street's Christmas lights as well as be VIPs at their charity concert. In this book, The Angels were Jack Frost's main targets, wanting to ruin their concert.
The band invited the girls to Rainspell Music Festival as their special guests. Throughout the series, the girls spent time with the band, having a picnic, meeting on the beach, even star-spotting for them and being invited to see around the concert stage. The band gave them special autograph books to collect autographs from the many artists at the festival.
The band sang an 80s song at the 80s-themed festival finale.
Trivia
Emilia's name was based on a friend of Rachel Elliot's, the real author of Destiny the Pop Star Fairy.
Lexy is the first of The Angels to say Rachel and Kirsty's names, in Miley's book, instead of saying "girls".
Their manager is Rowena.
In the U.S version, Rowena is Robin and Lexy has strawberry blonde hair.
Their stylist is Rich and their make-up artist is Charlotte.
Community content is available under
CC-BY-SA
unless otherwise noted.