Official!

This article is official! This means that it is a part of the published Rainbow Magic series.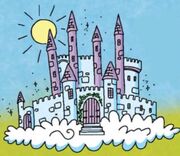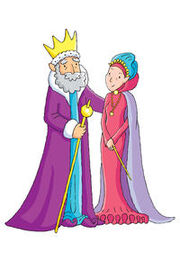 The Fairyland Palace is the current home of King Oberon and Queen Titania which presumably has been for the past 1000 years. It is located in Fairyland.
Appearance
The base of the castle is described as being a glittering silver and the four turrets are pink and so tall their points are almost covered by the fluffy white clouds.
It is also where some of the fairies magical items are kept such as The Jewels and The Weather Feathers (which are attached to Doodle who stands on one of the four turrets of the palace and decides the best weather for Fairyland and the Human World).
The Queen frequently shows Rachel and Kirsty a flashback of what Jack Frost and/or his goblins have stolen.
Exterior
Not much is said about the palace's garden except that it has a golden pool which, as said above, Queen Titania uses to show others either memories or flashbacks most like the latter. The gardens presumably have ordinary plants, flowers and trees and possibly, if they exist, magical flora and fauna.
Interior
The Palace most likely has an extremely large interior being a huge palace. 
Said in a few of the books that the palace has a huge hall (called the Great Hall) and also the Wedding Workshop, where the fairies create magical bouquets and delicious food in order to make sure weddings everywhere go smoothly. (mentioned in Mia the Bridesmaid Fairy) 
Community content is available under
CC-BY-SA
unless otherwise noted.